Why to compromise our family's security with a flimsy door which is not toughest at all. Doors which are made should be tough and kick-proof, they should be of solid and sturdy material which stands a barrier towards Burglar Intrusion, which means you need a Door with the solid wood core which is almost impossible to break. If a metal door is chosen it should have reinforcement from inside, and should also have a lock block to prevent a thief entering the house and bending the door open with a car jack.
Even reinforced steel are the toughest security doors Melbourne but needs some maintenance to prevent rust.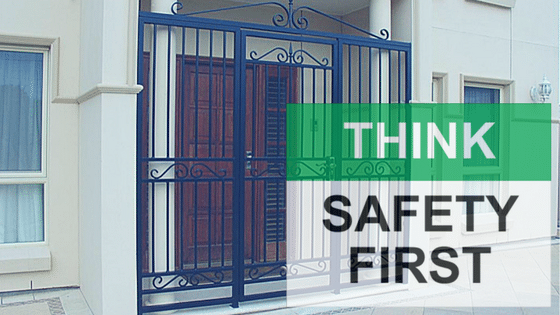 Door windows can be a threat to thief intrusion.
Window on a door looks extremely enormous as it allows light to pass and lights up the hall way, but be aware it can be the threat if located at arm's reach of your door, it will be easy to intrude the house by smashing the window and opening the door from inside.
Preventive measure include, choosing a door without a window, or if you already have a door with window install a lock where arms are not reachable, and also you can choose to decorate window by a reinforced glass with steel bars can give you the protection from burglars.
Strong and well-designed Door Frames can increase your home security.
Door Frame and Doorjamb are the two weak points, a swift kick that can weaken the frame or doorjamb which can crack open the door. Instead of weak frames and making the sturdiest security doors Melbourne, all you need to do is add the reinforcement to your doorjamb with galvanized steel to withstand all the kinds of pressure and prevent the intrusion of the thieves.
Even sliding doors can be the best security doors in Melbourne
All you need to do is reinforce the glass of sliding door or by polycarbonate and the door locks from inside will give you excellent protection, installing the door security and alarms can be the excellent security doors of Melbourne.