Want to give high protection to your family members when you are not at home? Then, you need to install Security Doors Melbourne to your front and back doors. These doors are made of high quality materials that are hard to break by the intruders and get into the home. This has to be installed in the areas where there is a high crime rate. These doors are available in different sizes, shapes, and designs.
You can buy the door that best complements with your home interior. More importantly, these doors add value to your home down the line besides protecting your property and family. If you are someone who is having sleepless nights due to higher crime rate in the vicinity have to install these doors without a second thought.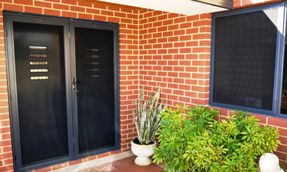 In fact, this door is installed in homes to deter intruders and burglars to break into the home and pose a menace to your loved ones and vandalise the property. This is one of the inexpensive security products that everyone can afford to install in their homes. The best thing is that, you do not need to compromise on the aesthetic details of the doors instead you can buy this strong and sturdy door that comes with an appealing design.
The decorative Security Doors Melbourne not just boosts the appearance of your home interior, but also will give bulletproof security to your property. This door is made of a wide variety of materials. However, you can choose the door made of any of the following material;
Aluminium doors
This is the most common and cost-effective material that is used by the people to manufacture gates and doors. This door is equipped with hinges and deadlocks to provide an extra layer of security to the property. The best part is that, this door requires minimal maintenance. More importantly, this does not let the home to heat up soon during scorching summer. In addition, if you are living in the area that is too noisy, then these doors provide high insulation and let you stay peaceful without any disturbance from the surroundings. Ensure to buy the door that is powder coated finish.
Steel doors
These doors are robust, durable and sturdy. These are another common choice of many homeowners. This door will not let the home get heated up soon, thus helping you save big on utility bills. In addition, this door keeps your home cool during scorching summer and warm during the biting winter season. You do not need to invest in HVAC appliances. It is highly recommended to buy this door from a reliable security door manufacturer.
Iron doors
These durable Security Doors Melbourne is extremely popular in a few countries due to its high durability and sturdiness it offers. More importantly, it elevates the beauty of the home with its classy look. This requires minimal maintenance and is cost-effective.
Conclusion
If you want to protect the property from intruders, then you need to install Security Doors Melbourne. These doors are made of different materials. However, you need to buy and install the material that is stronger and add aesthetics.