There's something beautiful about the feel of an open house in summer. The flow of fresh air; family and friends coming in and out as they please and the smell of your neighbour's barbecue in the evenings. The summer season brings with it a carefree feeling, but in the current day and age, we all must remain diligent about security. With that being said, there is no need to forgo the feeling of freedom altogether. With small changes, summer can still be fun and free. The first and perhaps smartest move to make to enjoy your summer as best you can is to install security doors in Melbourne.
Stay cool with your security doors Melbourne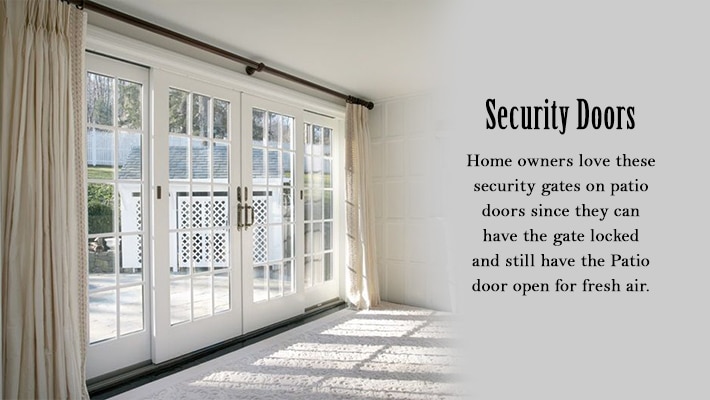 Keeping your home cool doesn't have to mean pumping the air conditioning all day and night. We're seeing homeowners installing security doors Melbourne wide to allow them to leave their main door open on those perfect summer nights, without sacrificing the safety of their home. Aluminium security doors are available as screen doors, meaning you can shut and lock them, safe in the knowledge that you are secure. The cool air can still pass freely through your house and leave you far less reliable on your air conditioner. Installing security doors is a far more economical and environmentally friendly way of keeping the temperature down indoors.
Wave goodbye to flies and mosquitoes
Opening your windows for some fresh summer air shouldn't have to mean opening up your home to clouds of pesky insects such as flies and mosquitoes. By installing security doors Melbourne homeowners can keep these annoying bugs out, and the cool air in. You can also enclose your patio and deck area with security doors or screens, allowing you to enjoy a barbecue outside without the buzzing of bugs. Don't leave it to the last minute and be beaten to the sausages by hungry flies. Take action now and make your house a sanctuary for the summer months with security doors Melbourne.
Invest in your peace of mind
Security doors give you peace of mind that your home, family and belongings will be safe from would-be thieves this summer, even when the house is open to the fresh breeze outside. When the costs are broken down, security doors and screens are a low-cost measure to increase home and personal security. We take home security very seriously here at Dial A Door, which is why our doors not only protect your family, home and possessions, but they are also incredibly stylish. For the very best security doors Melbourne and a free measure and quote, call Dial A Door today on (03) 9555 6677.